The news is out. Jacky Cheung 张学友 will be back this coming May 2012 and he'll be performing on the 12th of May 2012, 8PM at Stadium Merdeka!!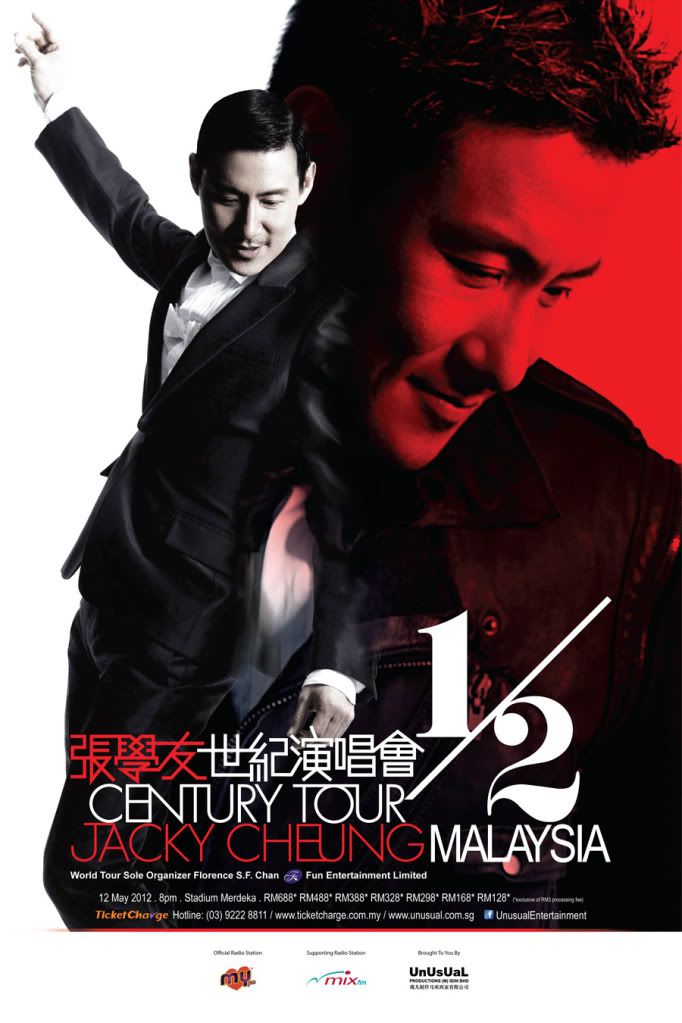 Event : 『张学友1/2世纪演唱会 Jacky Cheung ½ Century Tour – Malaysia 马来西亚』
Date : 12 May 2012
Time : 8PM
Venue : Stadium Merdeka
Just moments ago, Unusual Entertainment Pte Ltd's posted two Facebook updates, 1 in
Chinese
& 1 in
English
with more firmed details of the concert.
『张学友1/2世纪演唱会 Jacky Cheung ½ Century Tour – Malaysia 马来西亚』returns to Kuala Lumpur on 12 May 2012, 8pm at Stadium Merdeka.
Last December, Jacky Cheung wowed crowds at the Putra Indoor Stadium, Bukit Jalil, with his heavenly voice. Not only did he set the record for having the most number of concerts in Malaysia, he was also the first Mandopop singer to stage four consecutive nights of performances to sold-out crowds. In less than six months, Jacky Cheung returns with a more spectacular stage setup and fascinating performance!
For this series of concert, Jacky Cheung engaged the help of renowned stage designer, Zhou Bing Kun, who was also responsible for the Beijing Olympics 2008. Zhou's groundbreaking design goes beyond the restrictions of traditional stage through the forwards, backwards, and a 360-degree motion of the LED screen cum stage. Besides projecting visuals, it can be divided, extended, raised, rotated and also able to withstand the weight of performers when they perform on it.
To bring a tinge of romance to the audience, Zhou uses special transparent materials to construct the stage, which reflect the lights shining on it. This gives the stage a surreal and ethereal feel.
For the fans who cannot get enough of the "God of Songs", do not miss this chance to watch him live on 12 May through this deluxe version of his previous concert!
"Jacky Cheung ½ Century Tour – Malaysia" is brought to you by UnUsUaL Productions.
去年12月,"歌神"张学友在武吉加里尔布特拉室内体育馆开唱,票房成绩斐然,演出加场再加场!他不但创下大马有史以来场次最多的演唱会,而且成为 在当地首位一连开 4晚演唱会的华人歌手。相隔不到半年,他将带着更炫的舞台,更震撼的舞台道具及更精彩的表演于默迪卡体育馆和大马歌迷见面。
此次巡演的舞台设计请来了曾担任北京奥运会开幕典礼舞台设计的周炳坤。他的设计巧妙之处在于打破了传统舞台单层空间,通过背景大屏幕的前进、后退以及垂直方向360度的翻转,实现了舞台空间的分隔。舞台背景可以开合、伸展、提升、旋转,也能承载演员表演,并显示视频画面。
为了给观众带来更多浪漫色彩,周炳坤使用了透明材质搭建舞台,大屏幕在垂直翻转后会在透明舞台上形成光的折射。这将使得整个舞台看起来如同幻境。
意犹未尽的你,想要再次见证"歌神"的"不老的传说",就千万别错过5月12日的炫丽豪华升级版!
『张学友1/2世纪演唱会 – 马来西亚』是由UnUsUaL Productions 带给您。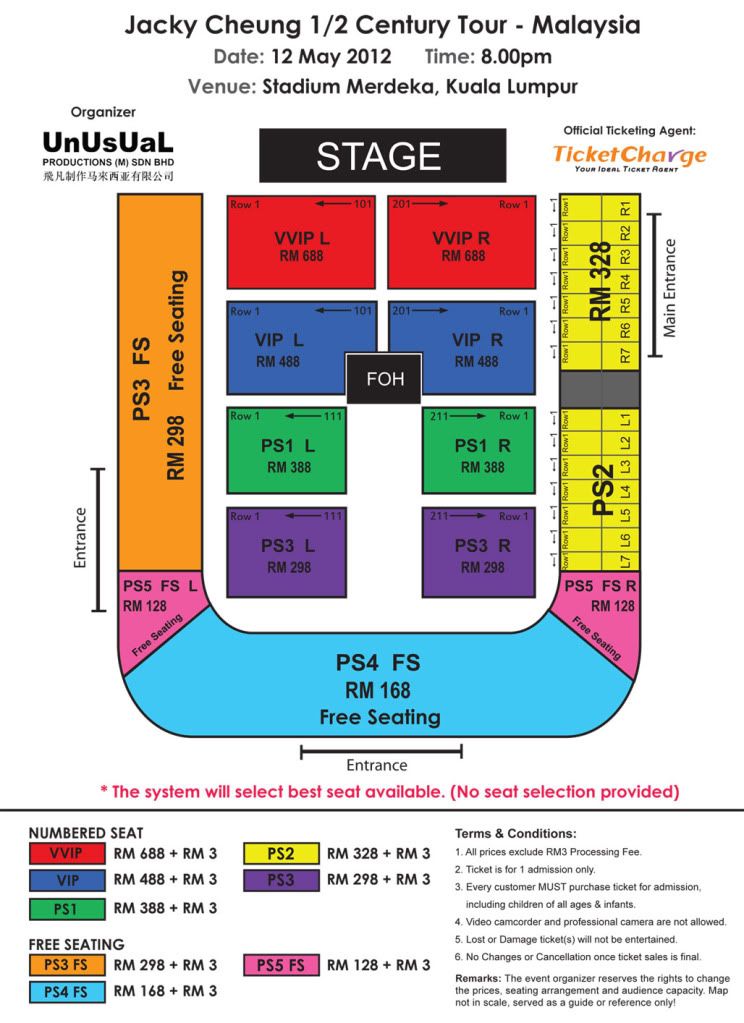 Stage plan for 张学友 Jacky Cheung ½ Century Tour 世纪演唱会 – Malaysia 马来西亚
According to the updates, ticketing details were included as well. Please view below :
Tickets priced at
RM688*, RM488*, RM388*, RM328*, RM298*, RM168*, RM128*
(*excludes admin fee) will be available via
TicketCharge
and
SISTIC
from
28 March 2012 onwards
.
Enjoy 5% early bird discount from 28 March – 3 April 2012!
Internet & Telephone Bookings from 28 March onwards.
Outlet Sales Channels from 31 March onwards.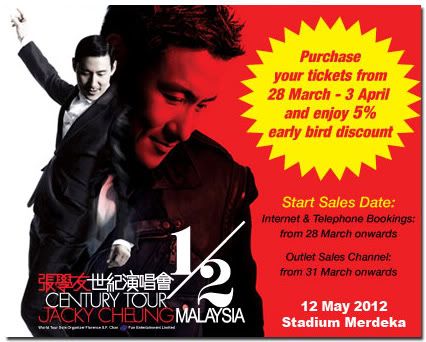 For more information –
www.unusual.com.sg
.